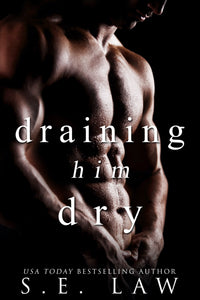 Sophia:
The man of the house is such an a$$hole.  Okay, I had some friends over and yes, we raided his liquor cabinet.  Is it my fault that Rod, Mark, and Everly like to drink?  I said I'd replace the alcohol using my babysitting money.
But Mr. Montgomery says no…
He says I drained his liquor cabinet…
And now I have to get down on my hands and knees …
…. before draining HIM dry!
What in the world?
No way.
This is wrong on so many levels.
But what happens when I ENJOY Mr. Montgomery's filthy demands?
This is a follow-up to Serena's story in Nanny for Hire.  In this book, we catch up with Sophia, who's been kicked out of an exclusive all-girls boarding school.  She goes home to live with the man of the house, but that's when the fun starts because there aren't supposed to be sparks with Mr. Montgomery… yet there are!  Buckle up and enjoy the ride because this is a wild, over-the-top story that will have you begging for more!  HEA guaranteed.