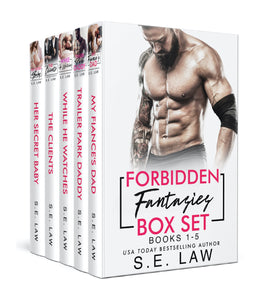 Get the first five books of the Forbidden Fantasies series as part of a steamy box set!  Also included is a special short story EXCLUSIVE to this bundle, for your reading pleasure only!
Cherise:
My boyfriend Hunter invited me to his family reunion over the holidays.  The gathering was massive, with over fifty aunts, uncles, and cousins, and other assorted relatives who smiled and welcomed me with open arms.
But at the party, I met Hunter's twin brother, Logan.
Both men have blue eyes, physiques like action heroes, and smiles that make my knees go weak.
Together, the twins make me feel treasured.
Cherished, even.
And most of all… wanted.
Is that wrong?  I know there's two of them and only one of me, but I adore having my curves worshipped.  Not only that, but now I'm pregnant with the twins' baby … and both men are clamoring to claim the child!
Wow wow wow wow wow!  Can you say forbidden?  This box set contains the first five books of the Forbidden Fantasies series, including My Fiance's Dad, Trailer Park Daddy, While He Watches, Her Secret Baby, The Clients, AND a bonus short story titled "Lost In Their Touch," described above.  This short story is ONLY available as part of this box set, so click "READ" now because you're in for a wild ride!  There are NO cheating or cliffhangers in this box set.  There ARE a lot of marriages, babies, and happily ever afters!  Quick, press the yellow button for a good time with sassy, feisty curvy girls and the alpha males who adore them.