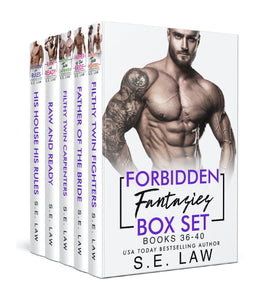 Ginny Hargrove's gorgeous father-in-law is ready to instruct the curvy girl on just how depraved 2 men can be … by using a special toy on himself!
In this continuation of My Scandalous Life, we're still in Paris with Ginny as she enjoys her honeymoon with her father-in-law and stepdad.  Yes, you heard me right!  She's part of a naughty threesome with two men of the house, and her new husband can do nothing but watch helplessly as his father AND her father claim the curvy girl in every way possible.  Imagination?  You won't need it because this serial brings it ALL.  Get ready to be titillated!
Plus, there's more!  There are five full-length romances in this box set, including:
Filthy Twin Fighters
Father of the Bride
Filthy Twin Carpenters
Raw and Ready
His House, His Rules
You know you want it!  Come to France with us on a romantic honeymoon because Paris isn't just the City of Lights - it's also the City of Love.  Click "Read" now!  No cliffhangers, and always a HEA for my heroines.