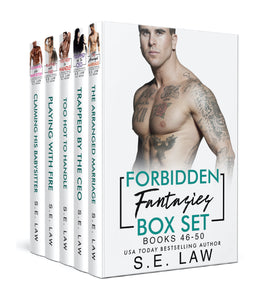 Jax:
I admit that I don't love my new son-in-law.  Dylan's married to Ginny, but the teen boy doesn't deserve the sweet brat.  As a result, Julian and I claimed the sassy girl's curves as part of our own naughty threesome.  It was delicious, depraved, and altogether worthwhile.
But we need to make it up to Dylan.  After all, it's not everyday that a bumbling groom loses his beautiful bride to the two men of the house.
So we escort Dylan to The University …
… also known as L'Université …
… also known as an exclusive all-girls schools in the center of Paris where beautiful French co-eds parade about in crop tops and short pleated skirts.
What kind of school is this?
Well, funny you should ask because the girls get an education … but not the type you think!
Oh la la!  Can we say explicitly taboo?  How about delightfully forbidden?  Is money exchanged for services rendered?  I would think so, given the debauchery that happens at L'Université!  Plus, in addition to the continuation of the serial My Scandalous Life, this box set includes FIVE full-length books.  The stories are:
The Arranged Marriage
Trapped By The CEO
Too Hot To Handle
Playing With Fire
Claiming His Babysitter
Pick up your copy now for hours of scintillatingly naughty reading. :)