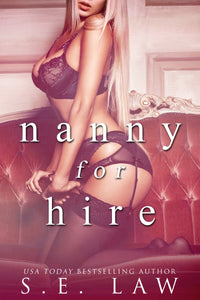 Mr. Masters doesn't have kids but he hired me as a nanny anyways.
Serena:
I went to interview for a nanny position, and the dad gives the word "sex god" a new meaning.  Malcolm Masters has a broad, thick chest; blue eyes that make me melt; and a big pacifier that I'd love to get my mouth on.
Oh and did I mention?  During the interview, Mr. Masters kept looking:  at my smile, my golden hair, and most of all … at my curves.
But now, I've found out that he doesn't have children …
… and yet he still wants me to be his nanny!
Is this a twisted situation?
Or is it going to be a load of fun?
Malcolm:
I'm tired of the women I meet through normal dating channels because the ladies are shallow, materialistic, and only interested in one thing: my money.
So I went the nanny route.  I made up some fictional kids and put up a job post.  Then, Serena shows up at my door, and she makes me go ga-ga with lush curves that go on for days.  Not only that, but the gorgeous woman is innocent, sweet, and giving, without a mean bone in her body. 
Sure, I went to extremes to get the beautiful blonde under my roof …
But who needs kids when she'll be the one calling me Daddy?
Holy smokes, what is going on in the burbs of New Jersey?  The billionaires there clearly do whatever they want, and Malcolm Masters is no exception.  He's concocted a scheme to lure a young girl into his house under the guise of needing a a nanny, except he doesn't have kids!   WTF?  As always, my stories are off the wall and crazy, so reader beware.  This book is a follow-up to Escaping His Harem, but all of my books are standalones and may be read in any order.  HEA guaranteed.