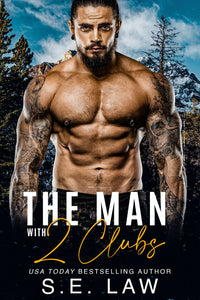 Welcome to the Isle of Deux where the men have not one, but TWO massive clubs hanging below their belts!  How can this be?  Read and see!
Amy:
My parents are awful people.  They want me to marry me off to some dude in rehab, so I went on a long hike to clear my mind.
But I came upon a secluded island …
And to my surprise, it's populated by a community of gorgeous alpha males who all have TWO huge tools!
Who are these guys?
Where did they come from???
Nonetheless, the loincloths can't hide those enormous shafts.
They poke out proud and glorious, thickly veined and girthy.  My mouth waters even as my knees go weak because I want to try one or two … or maybe try them all!
Drake:
Against all odds, a random girl stumbled upon our hidden island.  WTF?  How the hell did that happen?
Nonetheless, we can't let Amy go without being punished.
She's going to be offered up as a sacrifice …
On an altar …
With all my brothers watching …
As she takes my hard, heavy tools BOTH ways, simultaneously.
See?  The curvy girl showed up at the altar just like her parents wanted …
…. They just didn't expect her to be married to a man like me!
This is a follow-up to Carl and Chloe's tale in The Lumberjack with 2 Rods.  Can you believe the premise of these stories?  The Isle of Deux is named "Deux" because you guessed it – the inhabitants are handsome brutes with peculiar anatomy that promises DOUBLE the pleasure for the curvy girls they tame!  Break out your life jackets because you'll need them to stay afloat during this wild ride!  Even better, there's a whirlwind wedding at the end where the totally unexpected happens.  As always, my stories are standalones and do not need to be read in order.  HEA guaranteed.