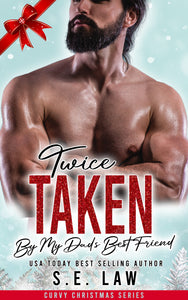 My dad's best friend is a fireman with TWO hoses that can satisfy me, front and back!
Shirley:
I was just messing around.  No one was home, so I decided to sit on the sprinkler in my family's secluded greenhouse for lots of naughty fun. 
No one would see.
It would be quick…
… and very dirty.
Even better, I added the garden hose for a double dose of good times!
Then, I turned on the water and ohhhhh!
Can you say EMERGENCY?!
Sven:
I'm a fireman.  I save people.
But when I stopped by my buddy's house to drop off gifts for Xmas, I couldn't believe my eyes.
His daughter was buck naked in the greenhouse with 2 implements stuck inside …
… well, I won't describe where they were.
Did I save the curvy girl?
HELL YEAH!
Because Shirley needs to be taken twice to be happy … and I'm just the man to deliver with my TWO massive shafts.
This is a follow-up to Chloe's story in The Lumberjack with 2 Rods.  In this tale, we meet Sven, who was the product of a dirty threesome between his mom, Carl's mom and King Fjall long ago.  Oh yes, it's the Lysenian royal genes working their magic again because Sven has TWO of what ladies need most in life … and Shirley's going to enjoy them both!  Kick back, relax, and try to slow your pulse because it'll be racing double time from page one.  :)  HEA guaranteed.